Focusing on the Present;
Winning in the Future;
Setting Sail
—ADVANCE.AI's Customer Appreciation Banquet, Beijing
Date: 4 September 2020
Location: Beijing, China
The 2020 "Focusing on the Present; Winning in the Future; Setting Sail" Customer Appreciation Banquet was held in Beijing on 4 September. ADVANCE.AI invited business partners to the event to discuss the latest data and industry analysis and look forward to the future development of the industry.
Here are some of the event's highlights:
Discussion of the latest industry trends
Guest speaker: Dong Shou, Co-founder of ADVANCE.AI.
"Chinese companies going overseas must build their ecosystems together and have the mindset of long-term business development overseas."

"The entire country's economy is recovering after the pandemic, and the data is a testament to this trend, which we can also feel through the rising business figures of ADVANCE.AI."

"AI is able to provide you with a stable and continuous high-quality service; this is our original intention, which will not change and will not be affected in any way."
The latest industry data and strategies sharing
Guest speaker: Qi Cui, Director of Overseas Fintech Business of ADVANCE.AI.
"In June 2020, the cumulative loan volume of the entire fintech in Indonesia has reached 113 trillion Rp, which translates to about 50 billion yuan. This figure has tripled compared with the same period last year, which shows that the loan business in the fintech sector is growing very fast."

"From May to June this year, the growth rate of fintech loans increased for the first time since the pandemic began, rose from 29.4% to 39%, meaning that our entire fintech industry is now in the process of recovery."

"The whole industry has gone through a downturn and is now in a phase of gradual recovery."
Sharing session: System Ecology under Multiple Traffic Channels
Guest speaker:Xiang Zhu, Head of Overseas Business of Rong360, business partner of ADVANCE.AI.
"AI was the first partner we met when we approached overseas business, and the one we have been working with ever since. We have a large dependence on ADVANCE.AI, both the product form and the subsequent development of new products."

"Thanks to colleagues of ADVANCE.AI for their support to our overseas business. We sincerely hope to grow closer with ADVANCE.AI in subsequent business cooperation."
Agenda:
Time

Session Content

5:30 PM-6:20 PM

Admission of guests

6:20 PM-6:40 PM

Opening Speech

Dong Shou, Co-founder of ADVANCE.AI

6:40 PM-7:00 PM

ADVANCE Sharing

" Braving the Winds and Waves: The Latest Industry Data and Strategies Sharing"

Qi Cui, Director of China Fintech Business of ADVANCE.AI

7:00 PM-7:30 PM

Client Sharing

"System Ecology Under Multiple Traffic Channels"

Xiang Zhu, Head of Overseas Business of Rong360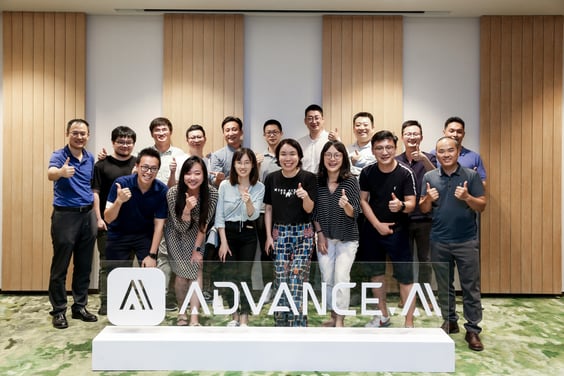 Register to receive updates about upcoming events.